Shopping Cart
Your Cart is Empty
There was an error with PayPal
Click here to try again
Thank you for your business!
You should be receiving an order confirmation from Paypal shortly.
Exit Shopping Cart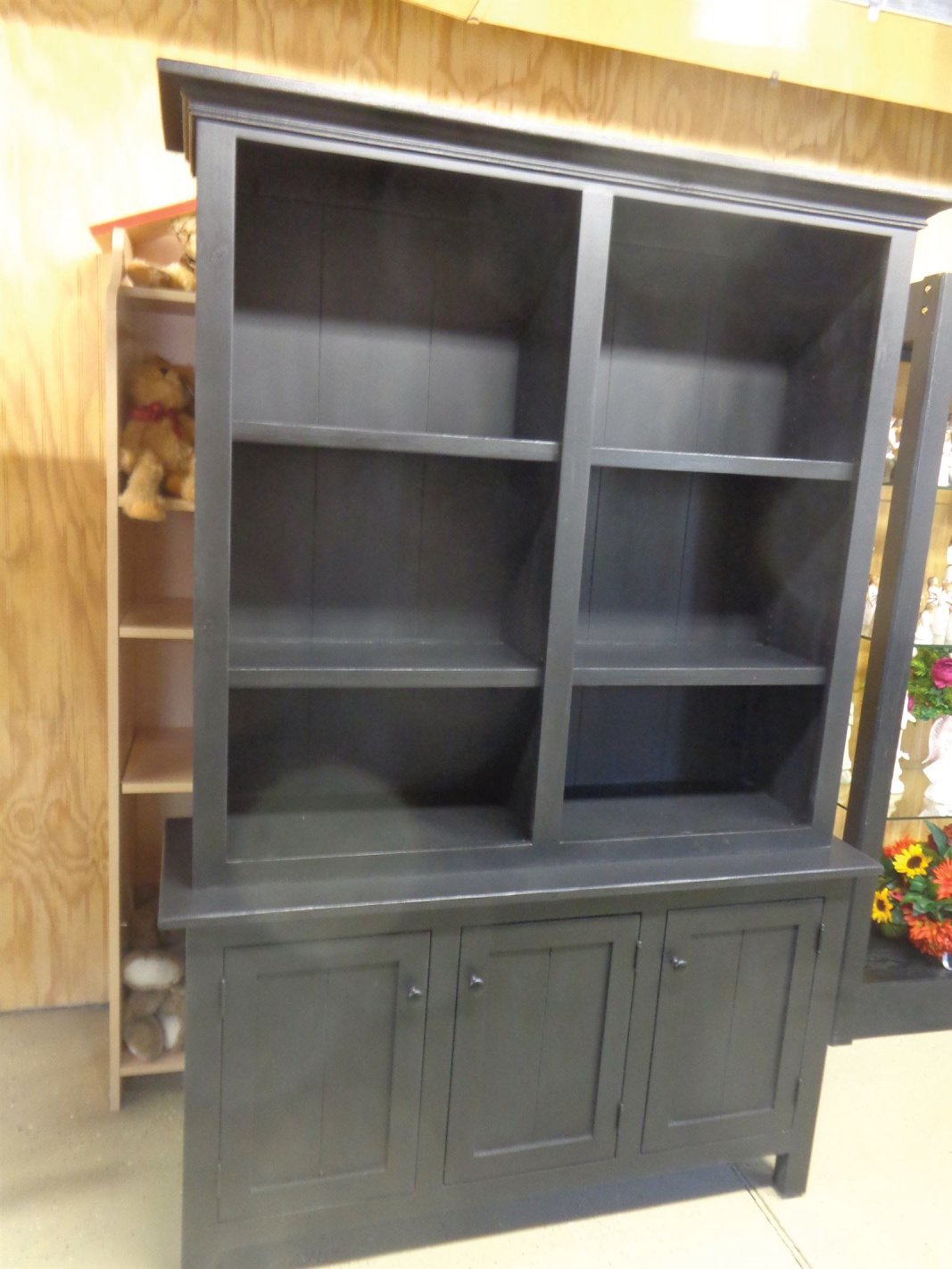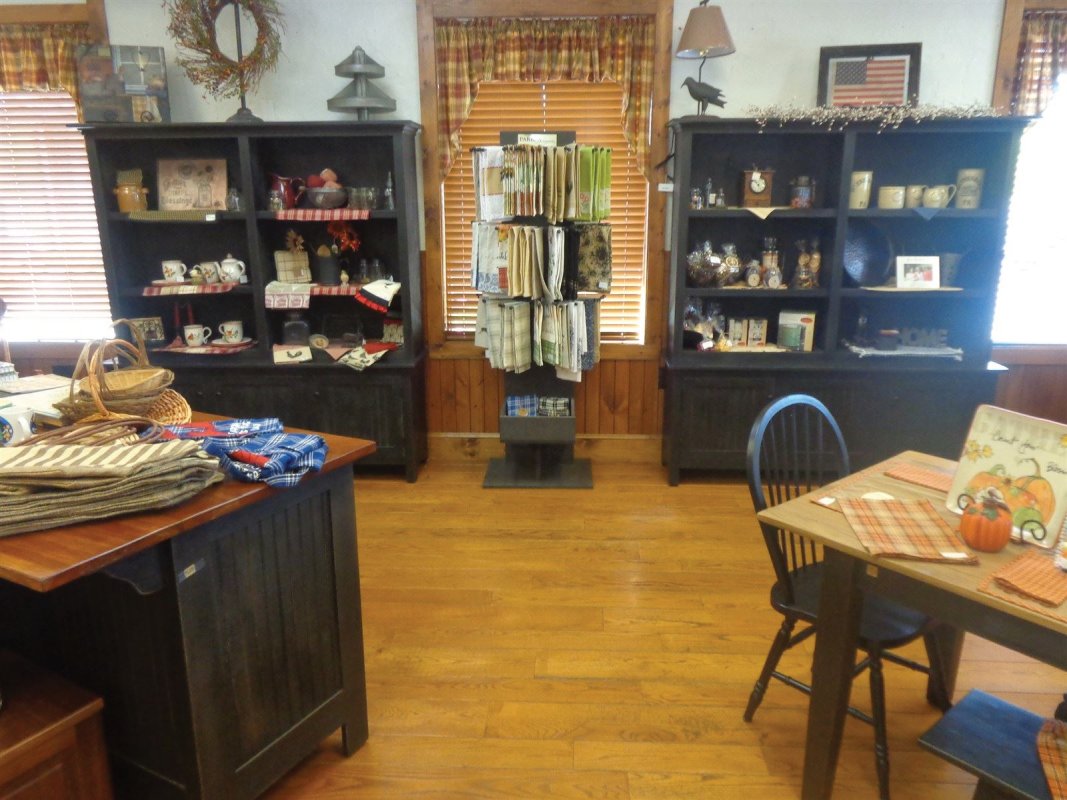 I have just recently displayed some cabinets for Keystone Family Restaurant and Keystone Country Barn. The two larger ones are 72"H  72"W and 16" inches deep. They also have a center divider and adjustable shelves. The base cabinets are 24" H and the tops are 48"H So if you need a display or even a bookcase this would be a good choice and a way for you to go.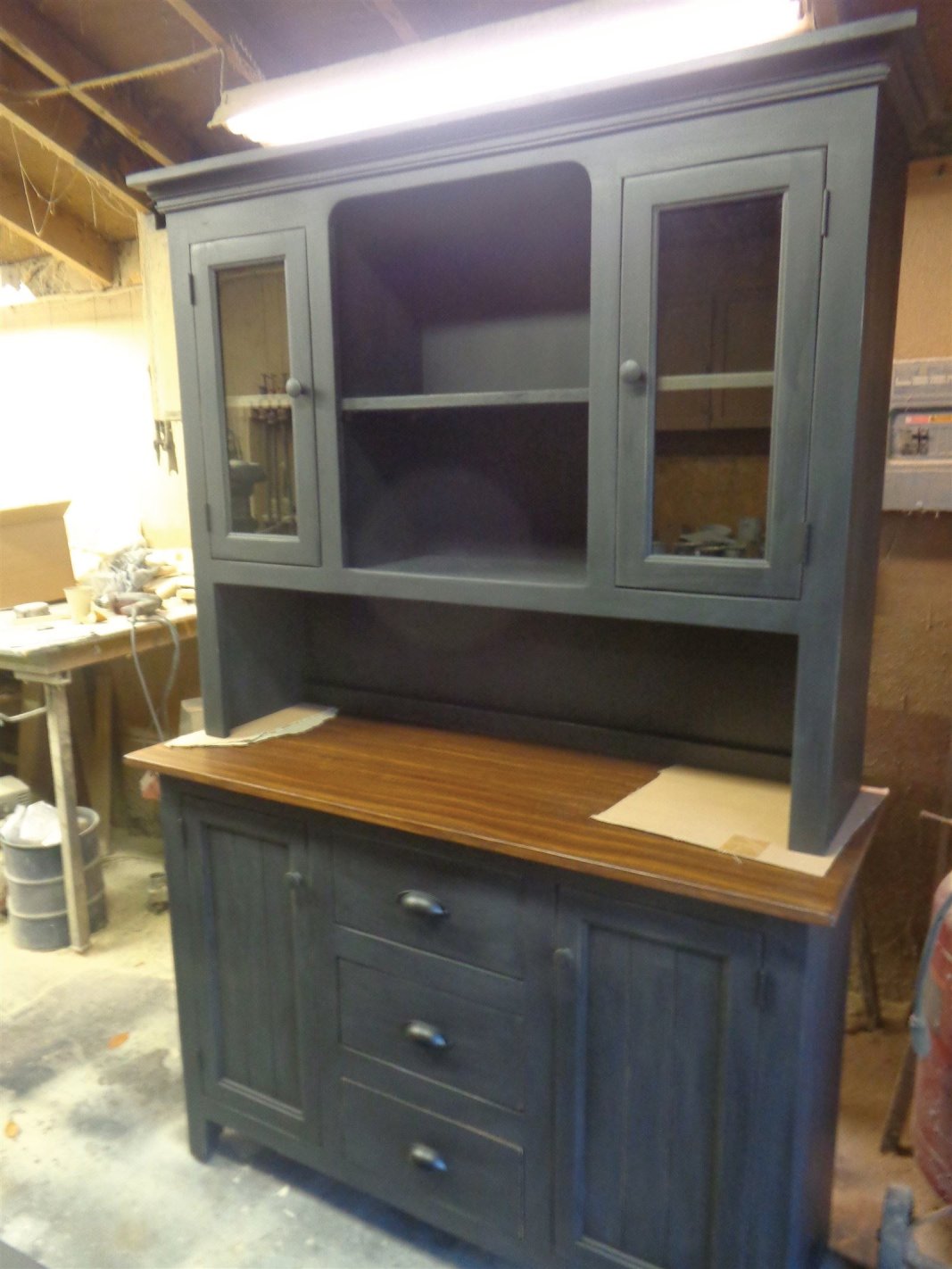 I just finished up some special orders for some clients that I wanted to share and post. The one on the far left is called a Welsh Cabinet that I made. The hutch top is 50"W  14"D and 42"H. The base of the cabinet measures 50"W  18"D and 36"H. I did it in black. The doors have a plank panel and on the inside they are adjustable shelves.
The next cabinet shown the client wanted to put their TV inside the cabinet then when not watching TV just close the doors. The doors are bi-fold which easily flip back. Below the cabinet is four drawers for more storage. There is also more storage right below where the TV goes. It measures 36"W  16"D and 60"H. This one was done in black and distressed. Really turned out nice.  The dining room set for a client I did for them was cream in my coffee over black. Thank you for reading my post.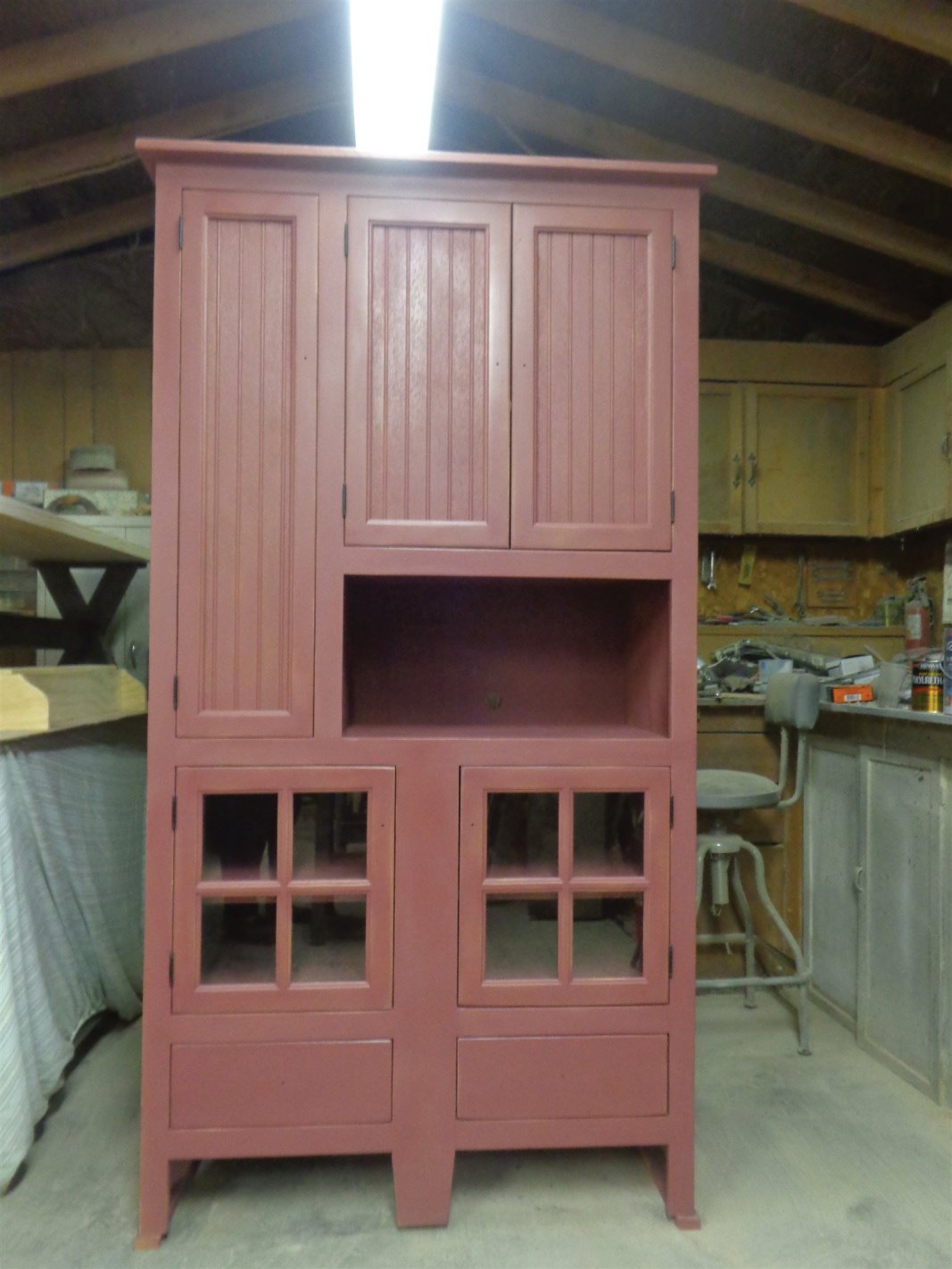 Hi Everyone, I just finished up a large kitchen cabinet for a client. The color that was chosen is called Fairmont Penthouse Garnet over a stained base. I lightly distressed it to the client's request. It measures 42"W 80"H and 22 1/2 Deep. There are three adjustable shelves in the top left side door and one in the right side top. The opening the client wanted is for a microwave. Behind the glass doors is one adjustable shelf. The bottom of the cabinet has two drawers for easy storage. This cabinet is one solid piece. It turned out really good and the client was very happy. I hope you all enjoy my post.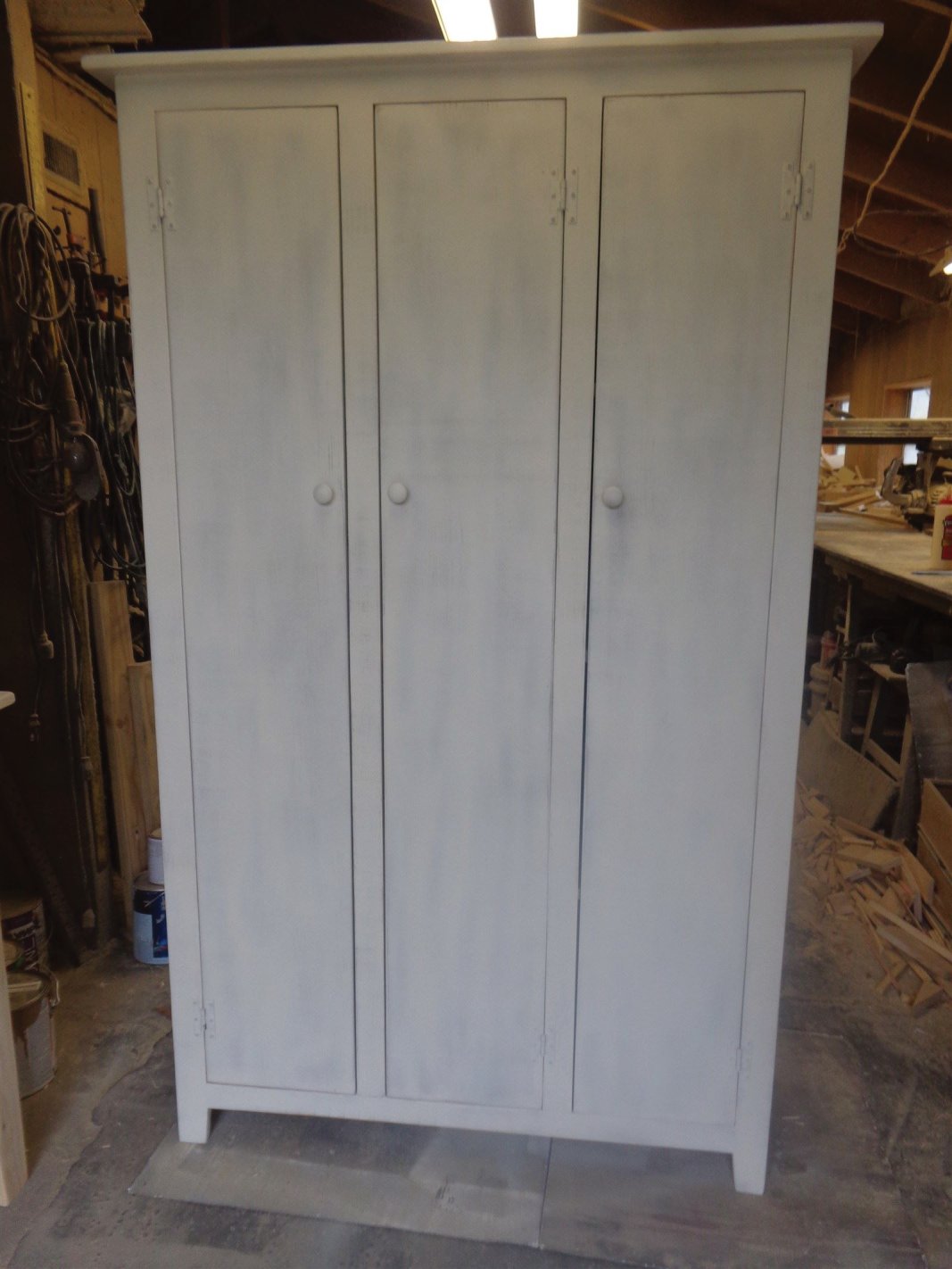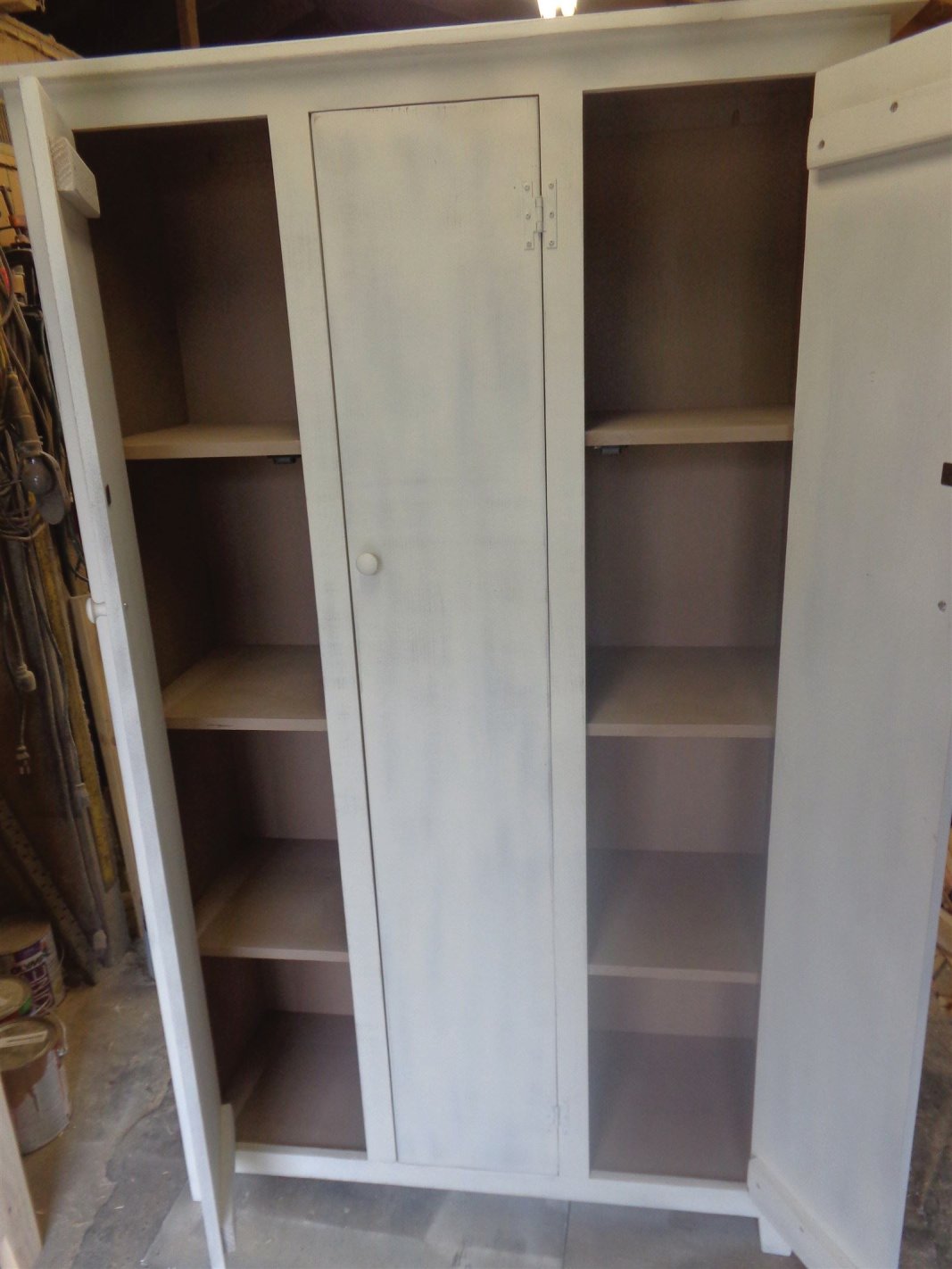 I just finished up a 3 door jelly cabinet for a client. This one measures 72"h 16"d 44"w. It was done in a two color paint. The whole cabinet was painted in a color called universal umber,then the outside was cream in my coffee. It was lightly distressed.The jelly cabinet is going in an old carriage house, so I think it will be great fit for their home.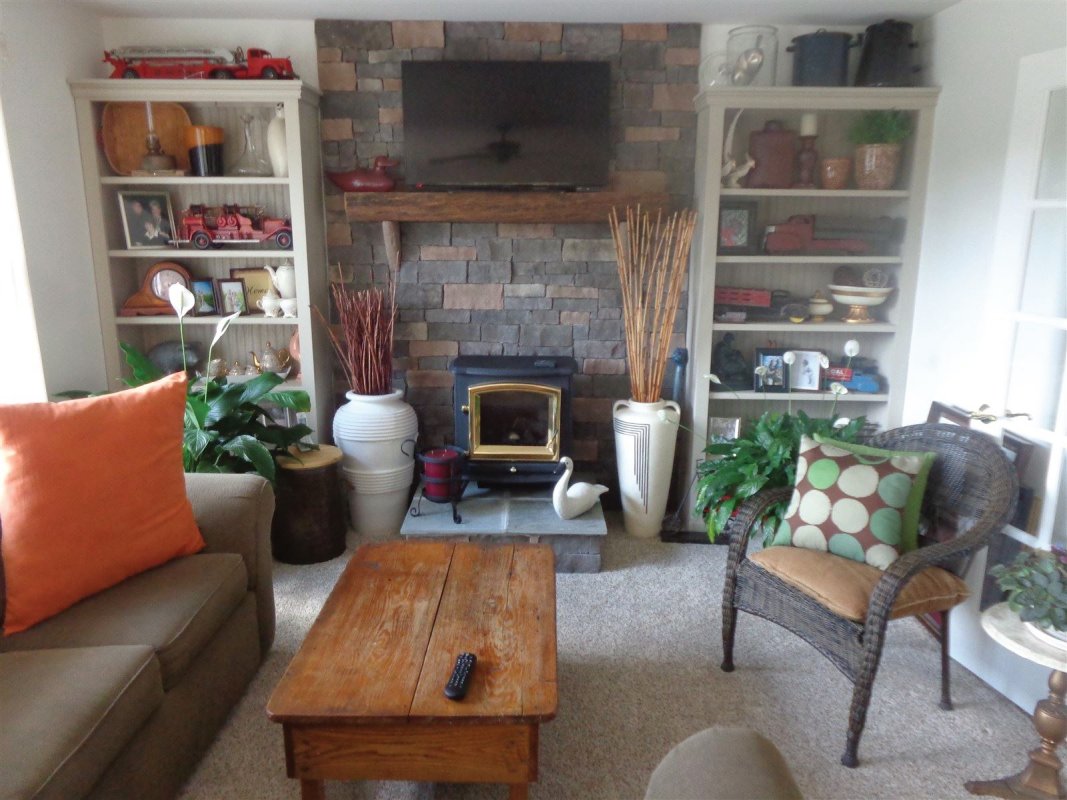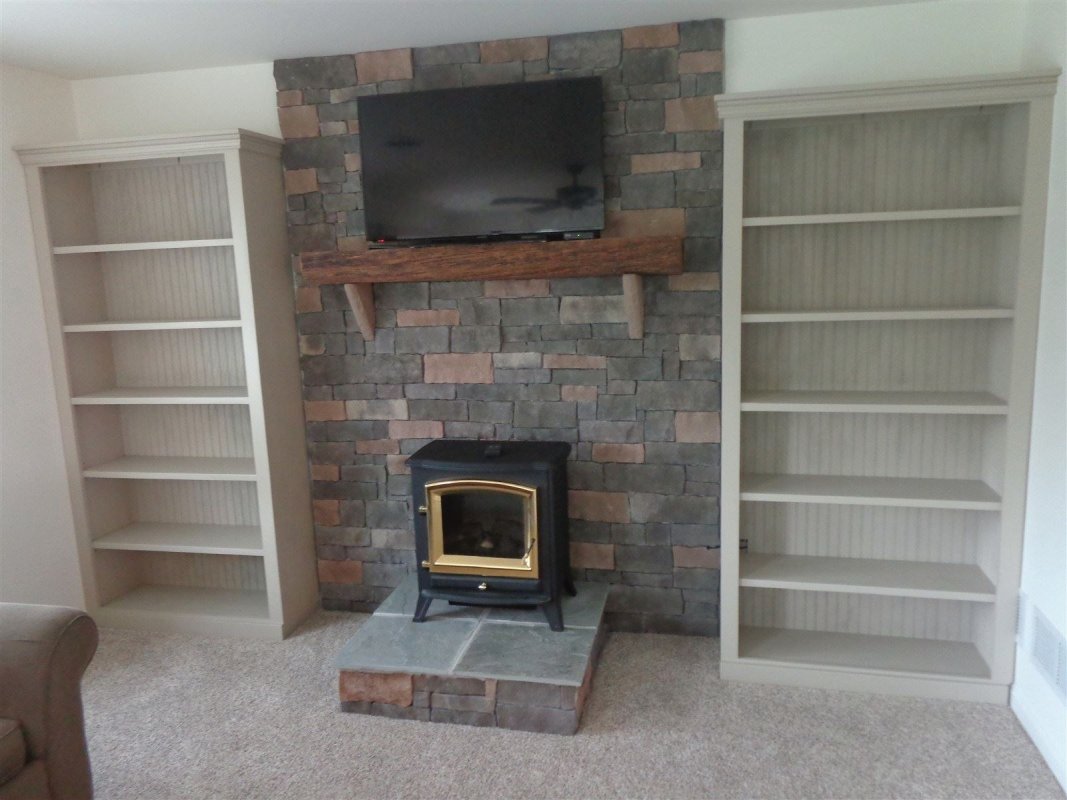 I just wanted to show you the a room that I did for a client. On both sides of the fireplace I made these two bookshelves that fit perfectly and it looks like they were always there. I built them to look that way. My Clients were more than happy with the results. If you yourself need something custom built, just give me a call or email me. Thank you for having an interest in my post.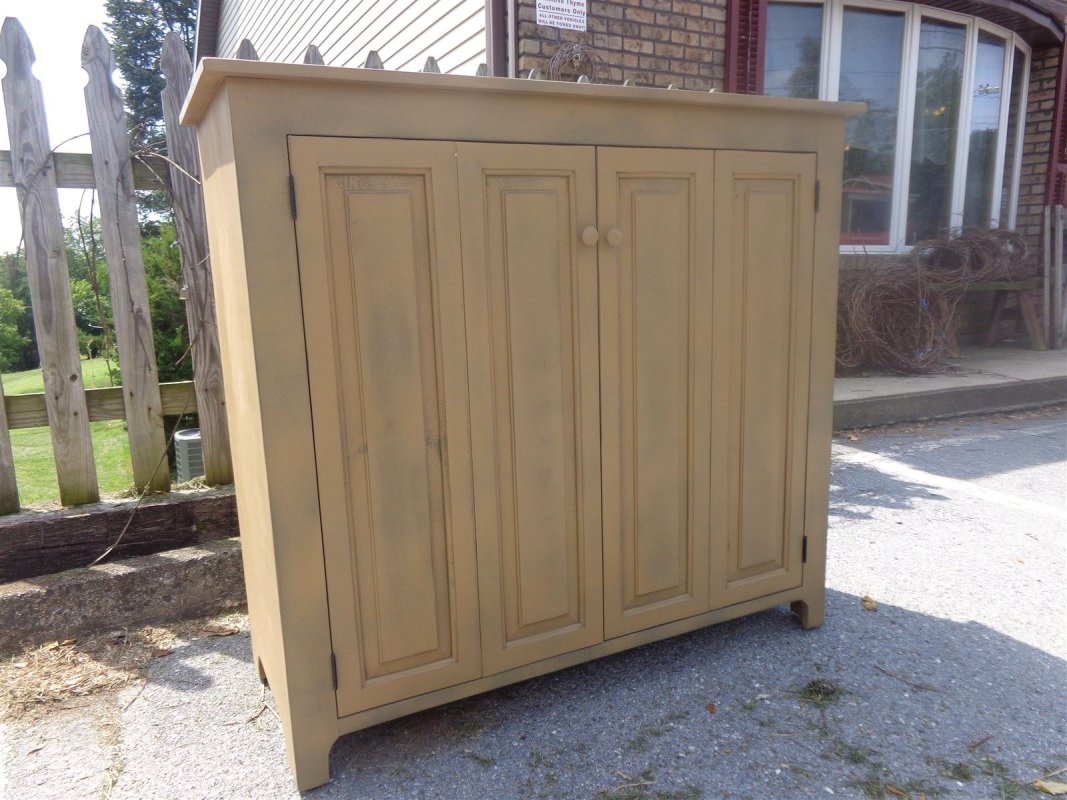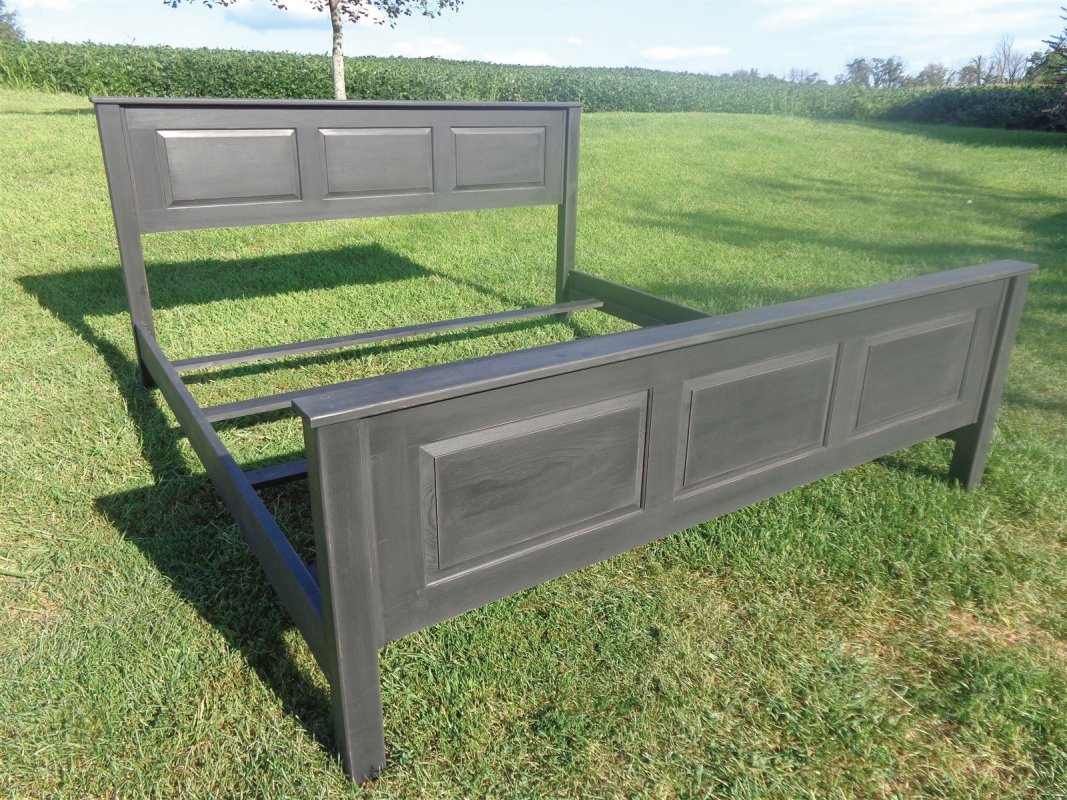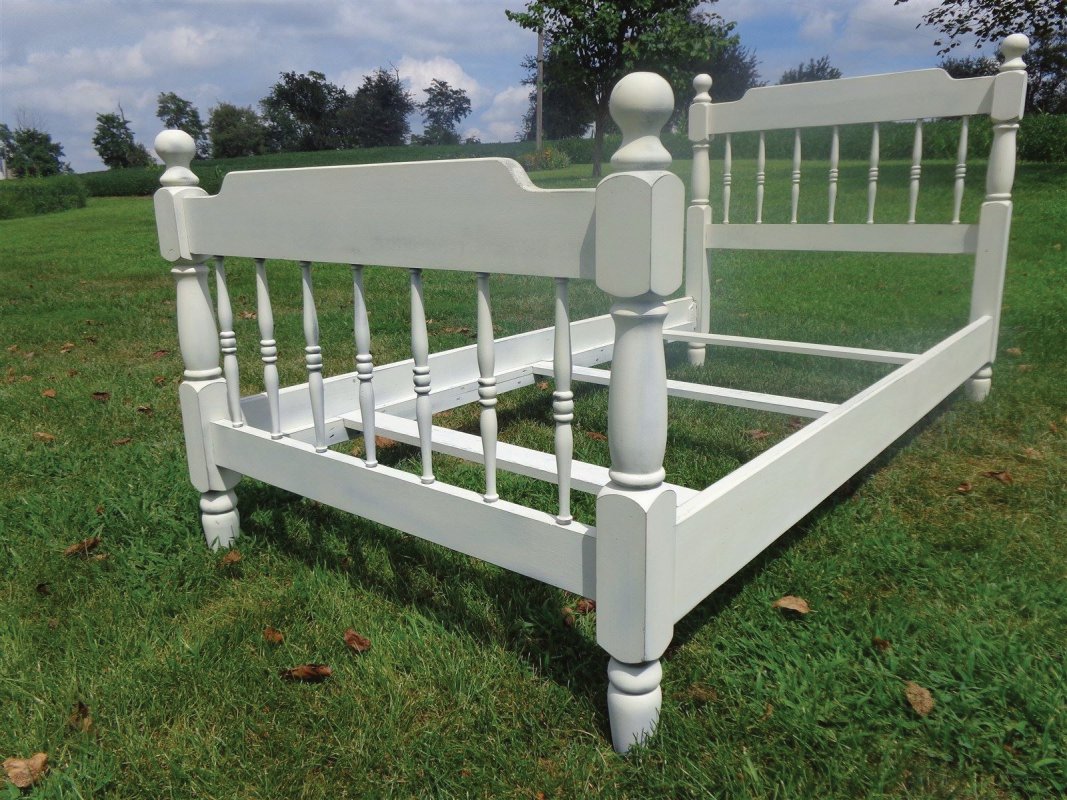 I just finished up some special orders for Primitive Thyme. I did a King size bed that was done in black and then lightly distressed. I also did a TV Cabinet on the left side of the picture that has bi-fold doors that open up and it makes it so nice when you are not watching TV and just close the doors. This was finished in a color called Cardboard over Black. I distressed it bringing the black to come through. It really turned out great and the customer was very happy with the end product.The white spindle bed is a twin size which is done in cream in my coffee over black. You can see the twin bed at Rocky Ridge.  Great for a little girls bedroom. Hope you enjoy the pictures. 
This is just to show of some of my special orders for clients. The piece on the left is a 2 glass doors and glass sides with bun feet. The wall unit above it is ideal for those accessories with two shelves and three drawers. The center piece is TV Cabinet with a hutch top. It can hold a 42 inch TV. The last item for my client they already had the book cases, what I did I added the bridge to give more architectural look for them. The Cabinet is a 65" wide for the TV.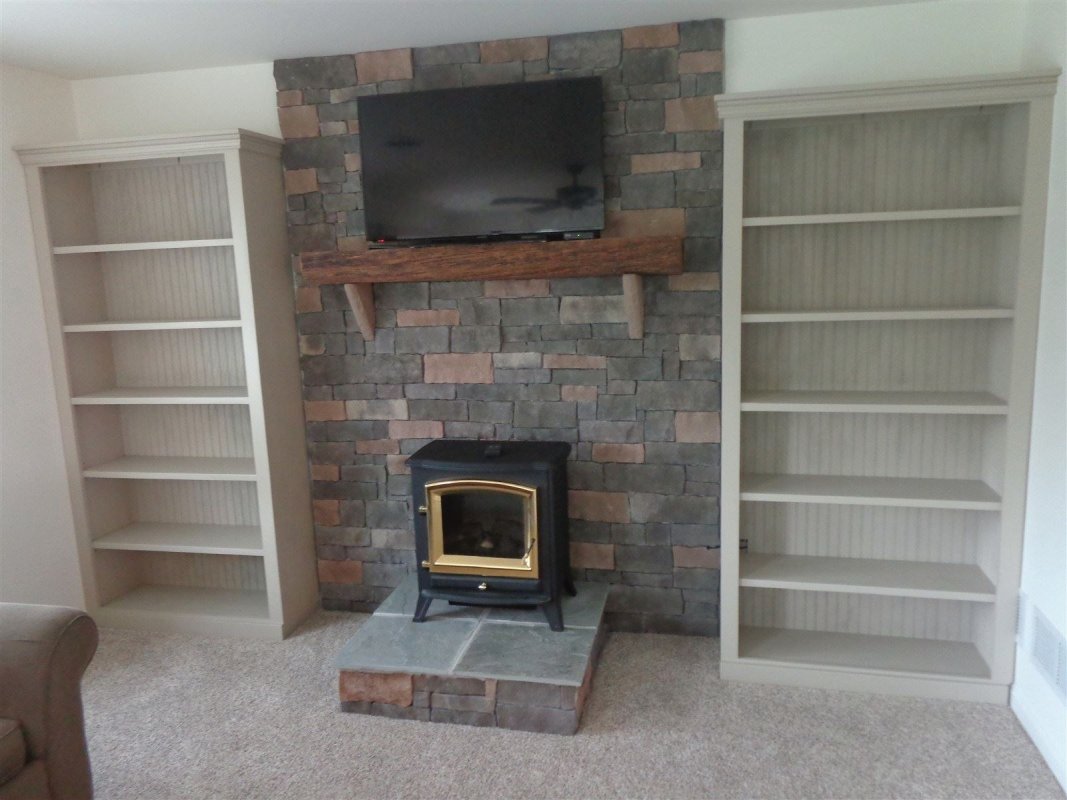 Bookcases!! I just recently built two bookcases for a client. They wanted a built in look but yet they also wanted them to be removable. They are 84" H 39"W and 14" D. The shelves are adjustable which is more practical. They were both done in a color by Sherwin Williams called Loggia. It has a bead board back which is lightly distressed. They were were very pleased with them. Another happy client.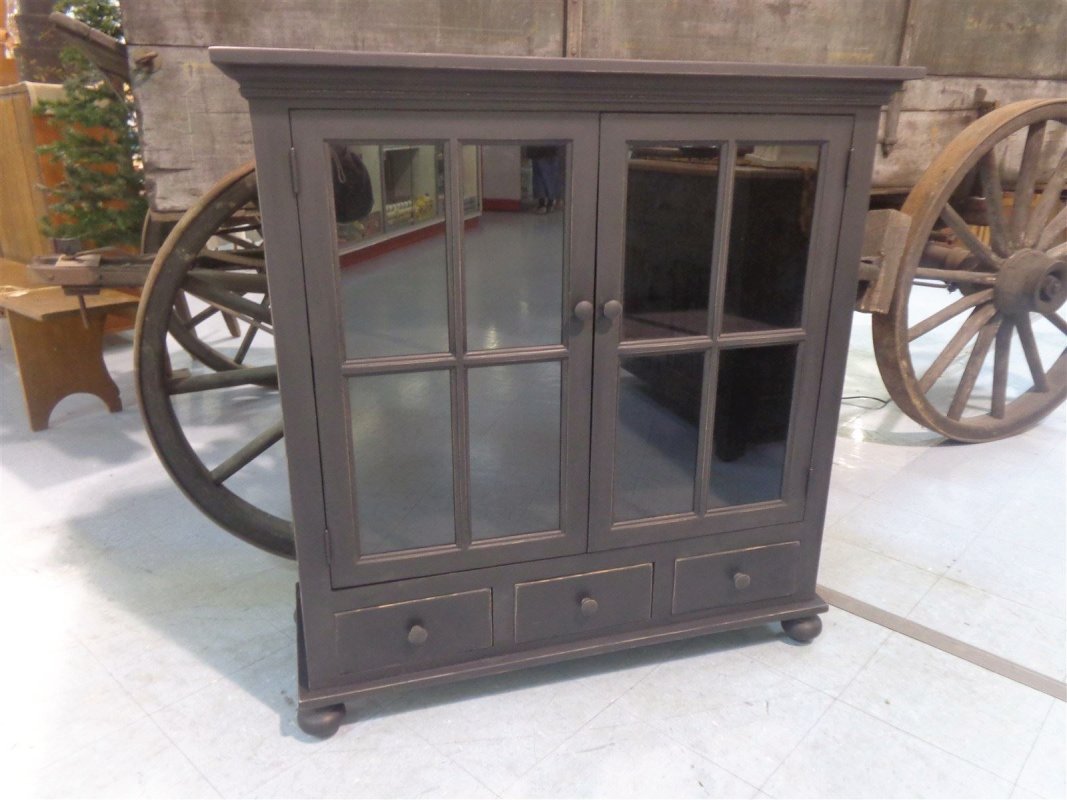 The cabinet on the far left is double glass doors with two shelves. The bottom has three drawers which comes in pretty handy with all those accessories that you can put in them. It also has bun feet. It measure 44" H 44"W and 16" D. The middle piece is an eight drawer apothecary. This piece can go on a desk, kitchen, sewing room almost anywhere and look terrific. This piece was done in distressed finish. The far right piece is a Jelly Cabinet with a drawer at the top. It measures 42" H 18 1/2 inches deep and 19 1/2 inches wide.  Thanks for viewing, I hope you like them. 
/