Shopping Cart
Your Cart is Empty
There was an error with PayPal
Click here to try again
Thank you for your business!
You should be receiving an order confirmation from Paypal shortly.
Exit Shopping Cart
I just had a client request to make a Kitchen Island and Farm Table. The Kitchen Island is 5 1/2 feet with two door storage area and seating for two.  And for the farm table they wanted a 5 1/2 foot plus they wanted 3 inch turned legs. They wanted benches with backs for both sides of the table and two end chairs. The tops of both pieces are done in a distressed wood finish. If this is something you would be interested in just send me an email. Thank You and have a nice day. 
I just recently set up a six foot Kitchen Island at Rocky Ridge. It has a distressed finish wood top done in early american stain. It has two doors and two drawers that gives you a fair amount of storage space. There is seating for two people at the end. Clients really seem to like this. If interested send me an email. Thank You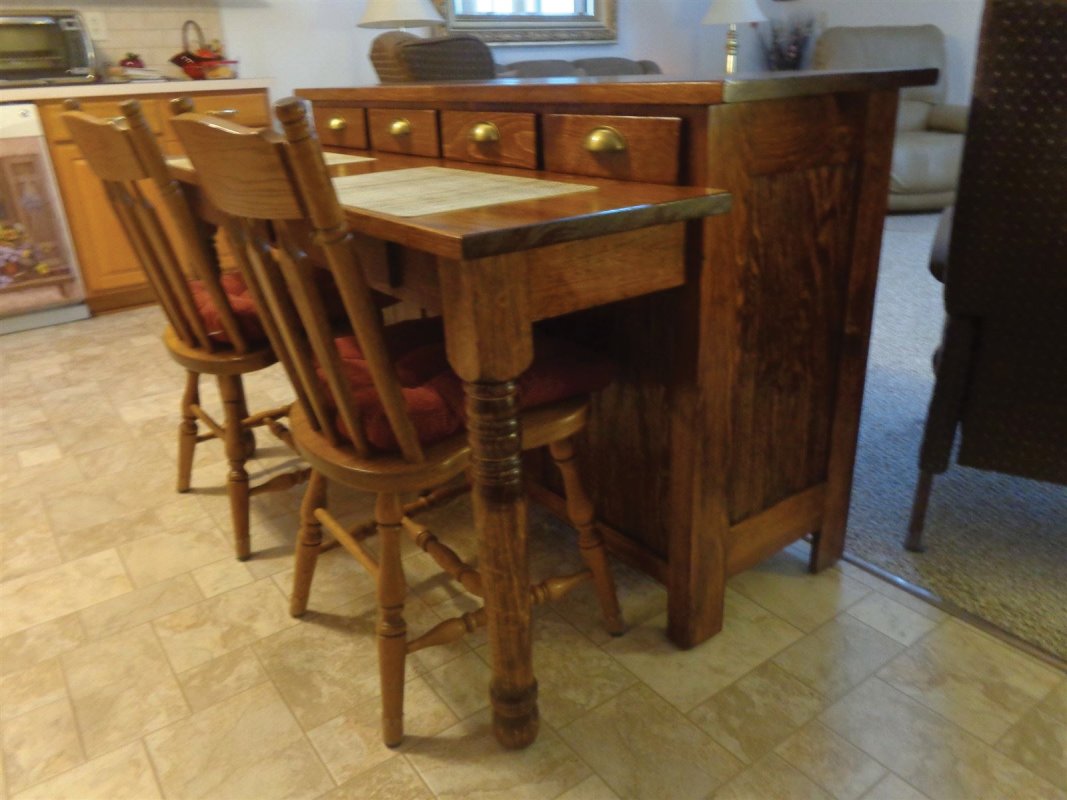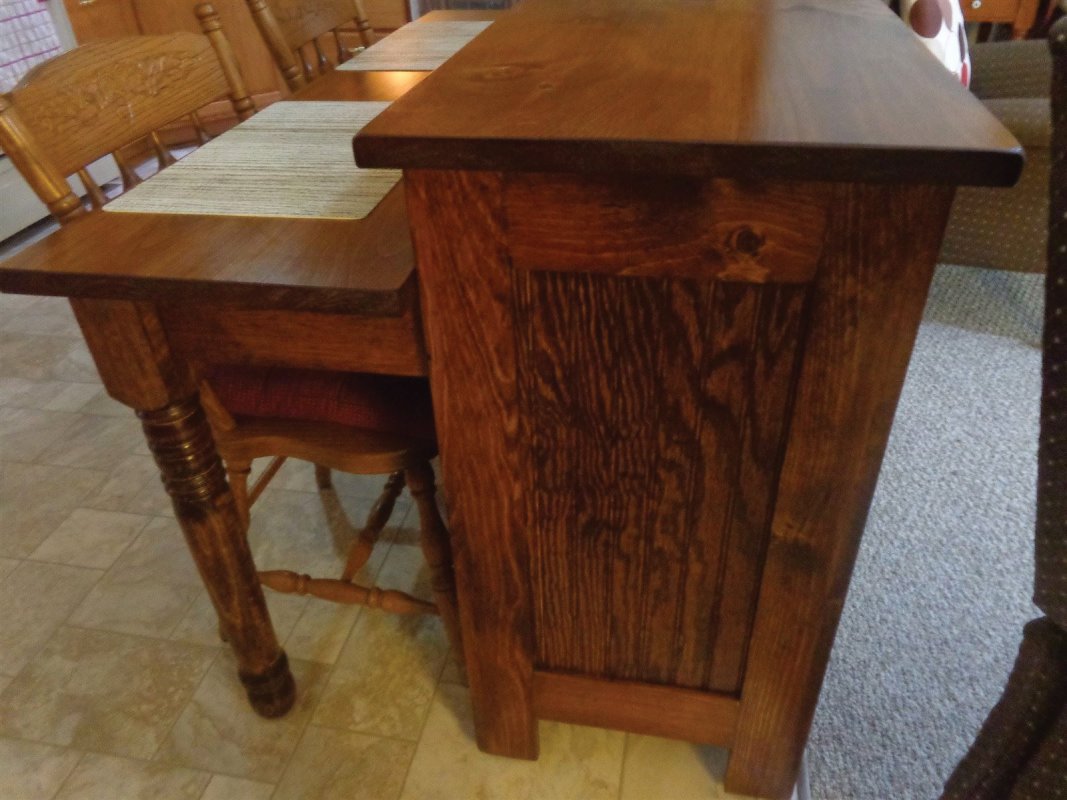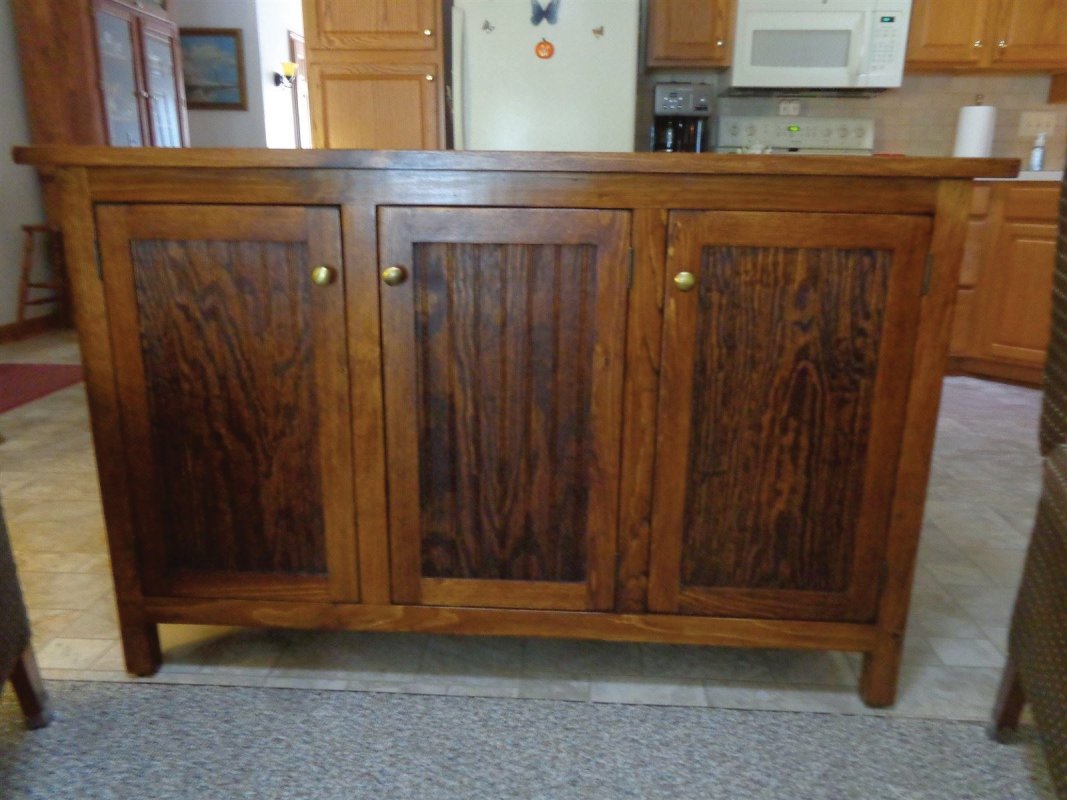 I just finished a Kitchen Island for a client that is a two tier island. It works perfect for what they wanted. The main island part is 36"H 58"L and 20"D. The other 1/2 that comes off of the main island measure 30"H  58"L and 15"D. They wanted the 3 inch turned legs which set it off really good. Everything was done with bead board doors, side panels and back panels. Client wanted it done in Early American stain for the whole piece. The cup pulls on it are an Antique English finish which really set off the piece. The client new what they wanted from the start which made it easy from the start and it turned out awesome. They loved it. 
Kitchen Island or Buffet- Your choice. I just recently set up a kitchen island at Rocky Ridge. I think you could use this as a kitchen island or a buffet. It measures 72"W  20"D and 36"H.  It has 4 drawers with cup pulls which really sets off the piece. It has three raised panel doors and 3" turned legs. The top is a 1" thick barn wood top which gives it that old primitive look. Clients are really liking the barn wood top. See anything you like on my website call me  or email me. Thank You for looking. 
Kitchen Islands
I just recently set up three different types of kitchen islands at Rocky Ridge. I did on a smaller scale which would be great if you are looking for a little extra work space in your kitchen. The island at the top left is a one door island. It measures 48"W 19"D and 36"H.  The middle one is a 2 door which measures 47" W  24"D and 36"H. The 5 drawer island is 40"W 19"D and 36"H. They are all done in black which is the most requested color. They are finished in panels on the backside so they will look good in your kitchen. Stop by and check them out. Hope you like them.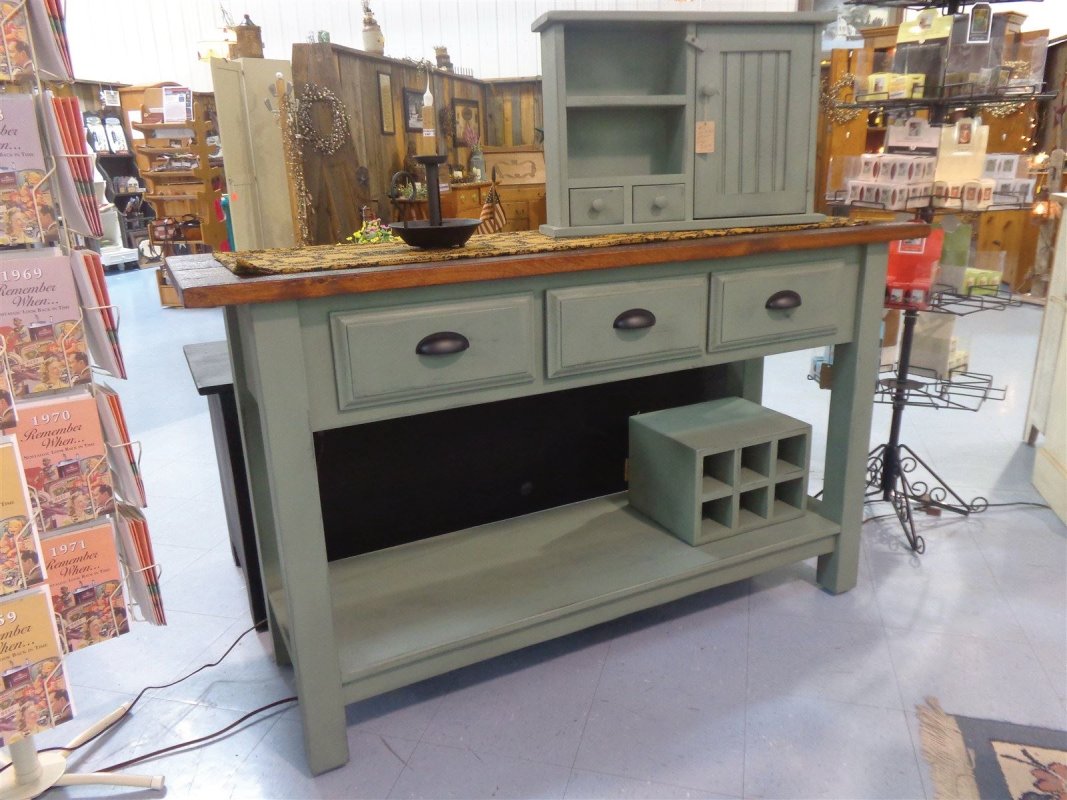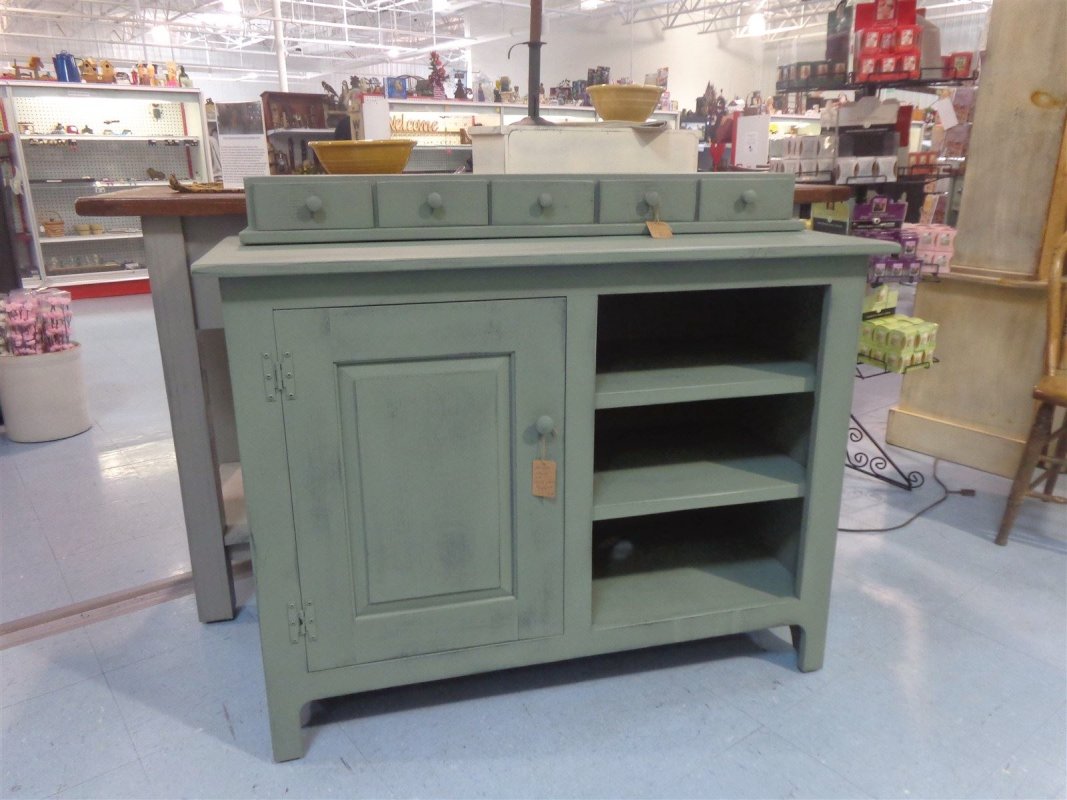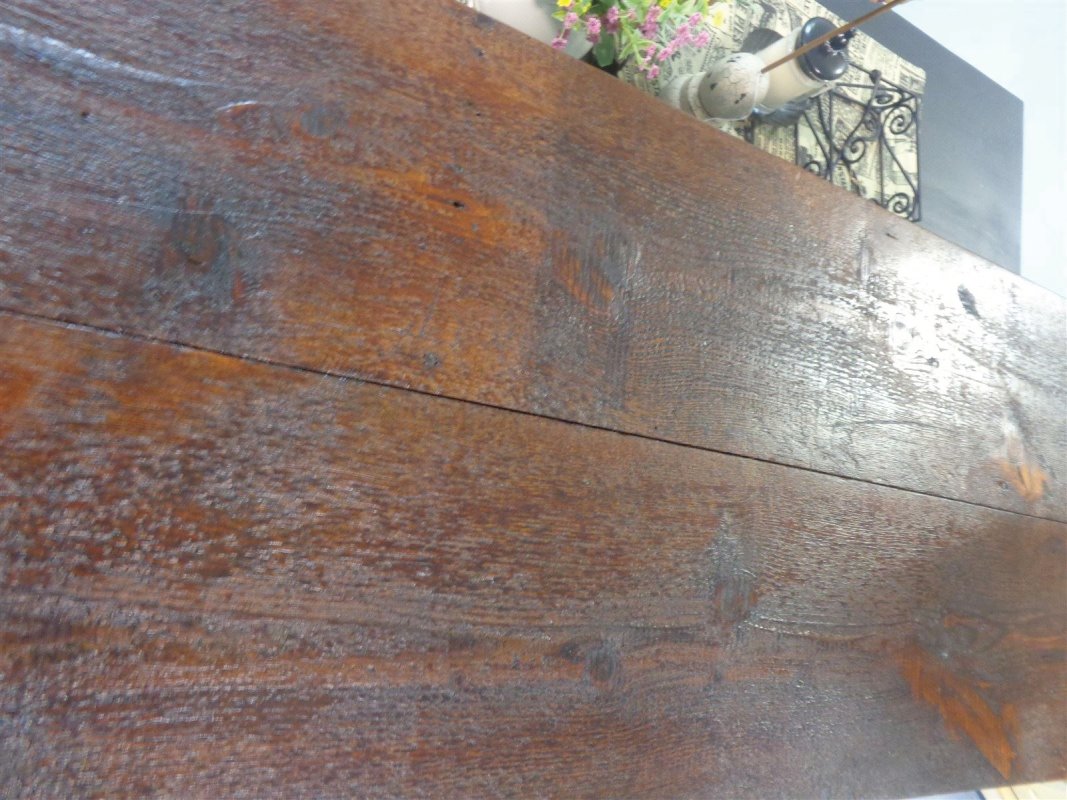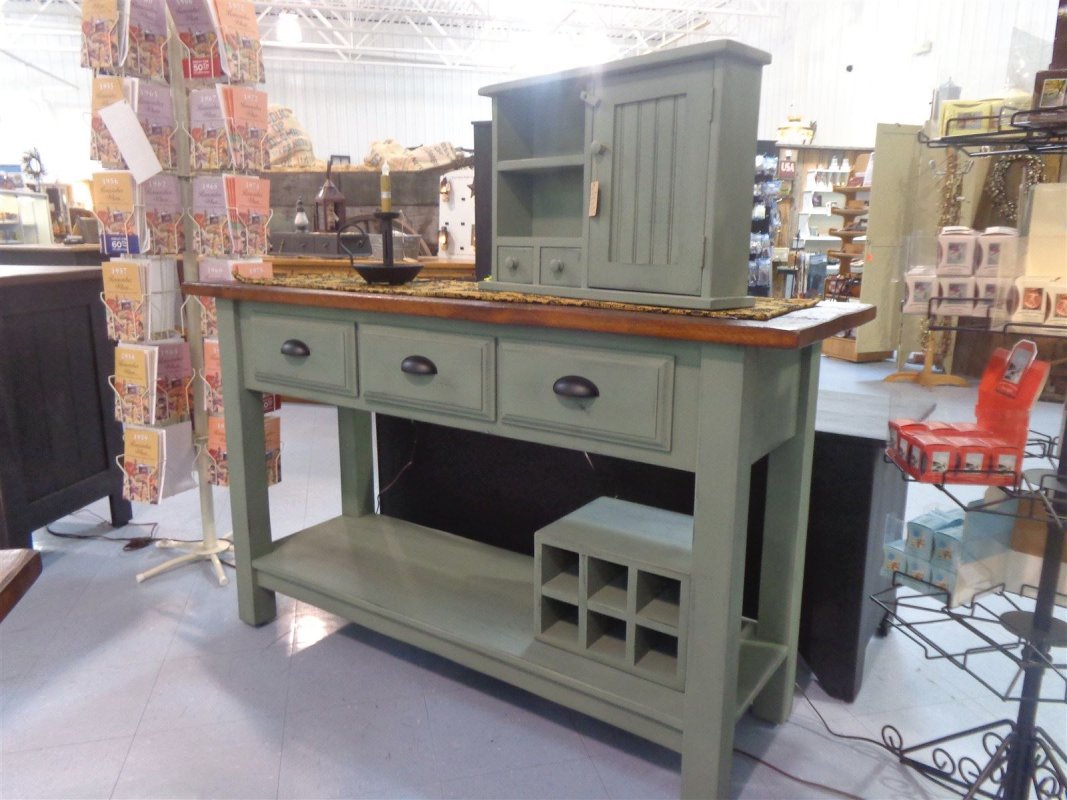 Sage Kitchen Island-- I have just taken to Rocky Ridge and another cabinet which can be used as a buffet or even a TV Cabinet. The island measures 60"W  22"D and 36"H. It has three drawers with cup pulls. The top has an old original barn flooring that just made this piece stand out from all the rest. What a look! I added a picture close up so you can see this look. On top of the kitchen island there is a wine bottle caddy that can be removed and sold seperate. The other cabinet beside the kitchen island measures 42" W  34"h AND 19"D. It has adjustable shelves.  I have on top of this cabinet an apocathery. It can be purchased with this cabinet or sold seperately.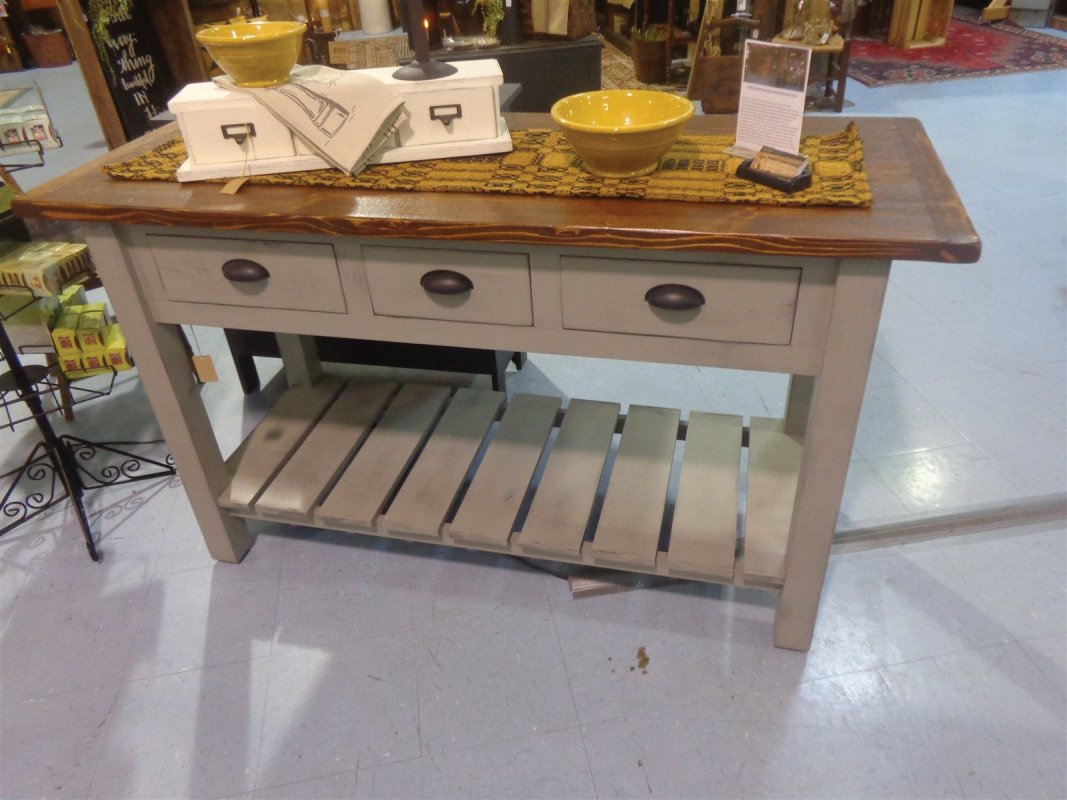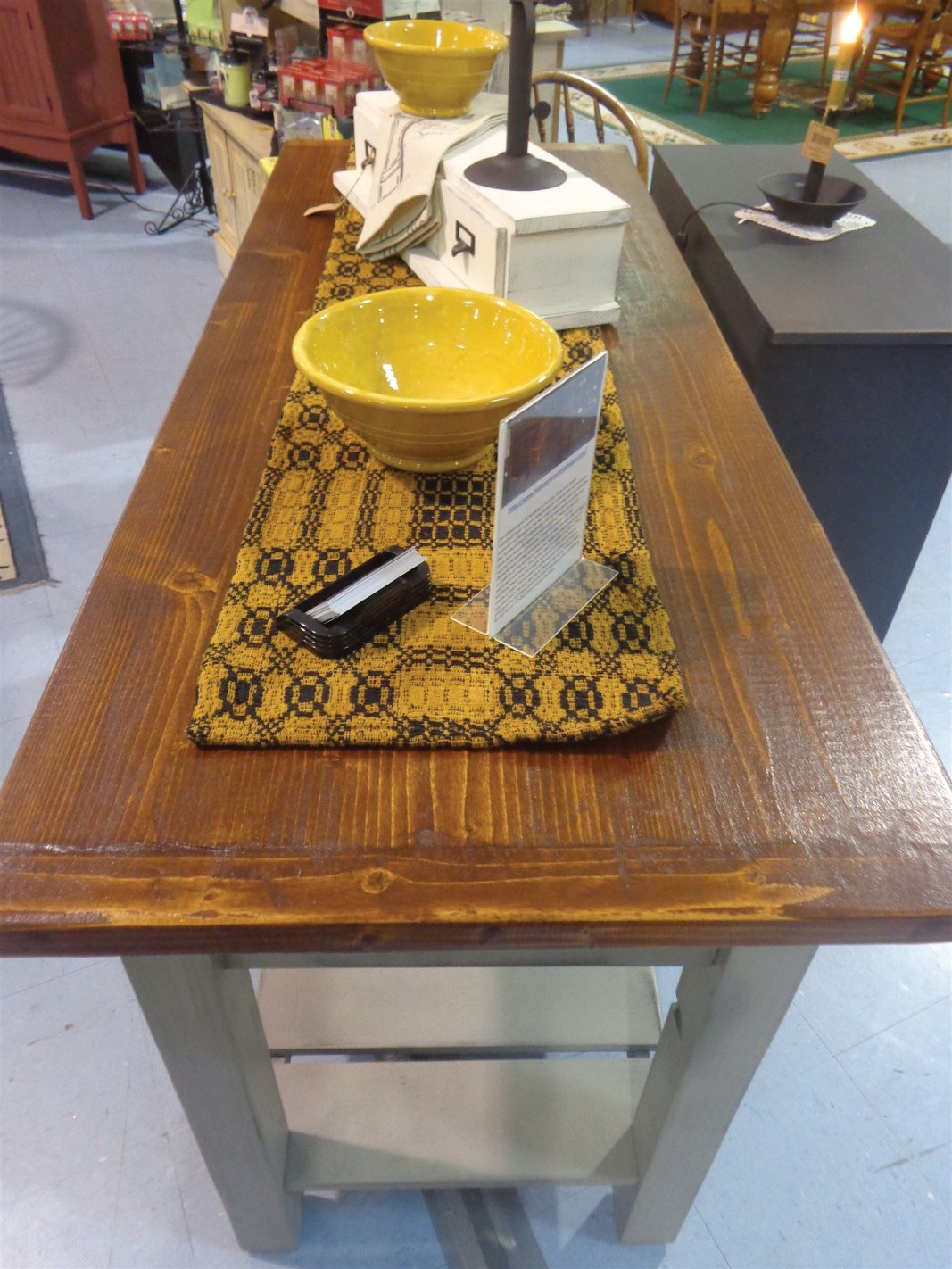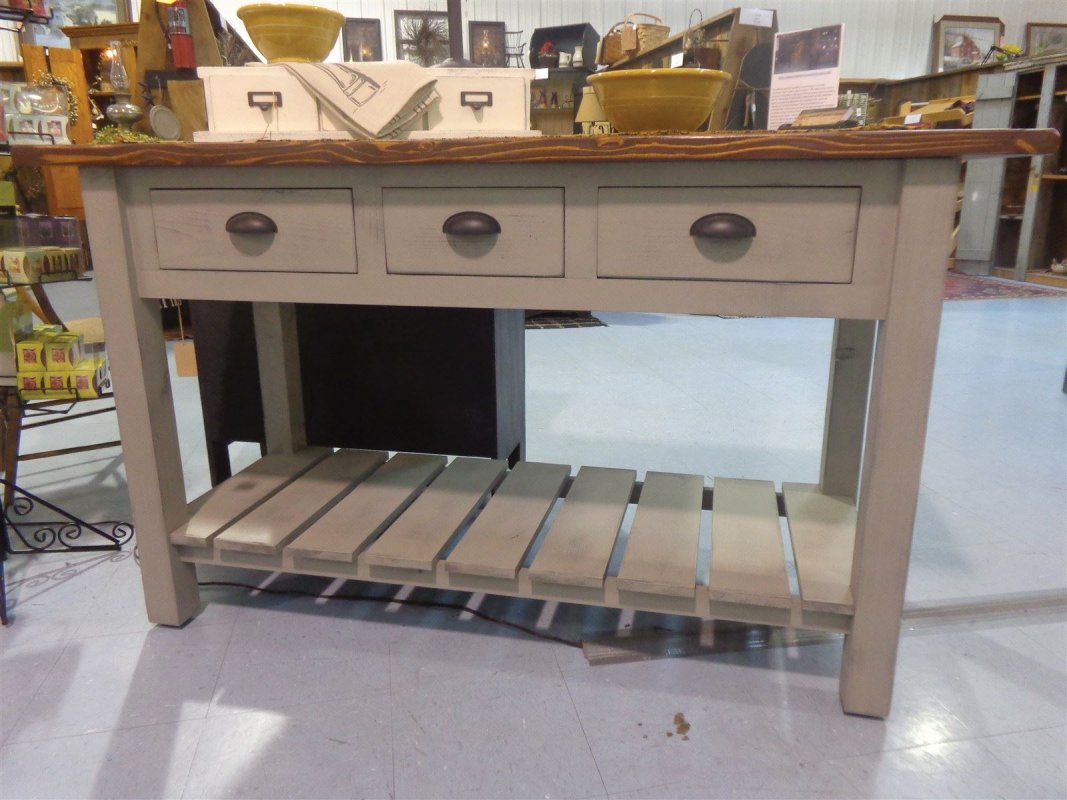 Kitchen Island--I just set up a kitchen island at Rocky Ridge. This is a new paint color which is French Gray over Black. It has a lightly distressed look. This piece measures 60"W  24"D and 36"H. It has three drawers with cup pull handles. The bottom shelf is done in a plank look which gives it more character. The top is one and a half inches with a distressed finish.  Looking for an island in your kitchen this is it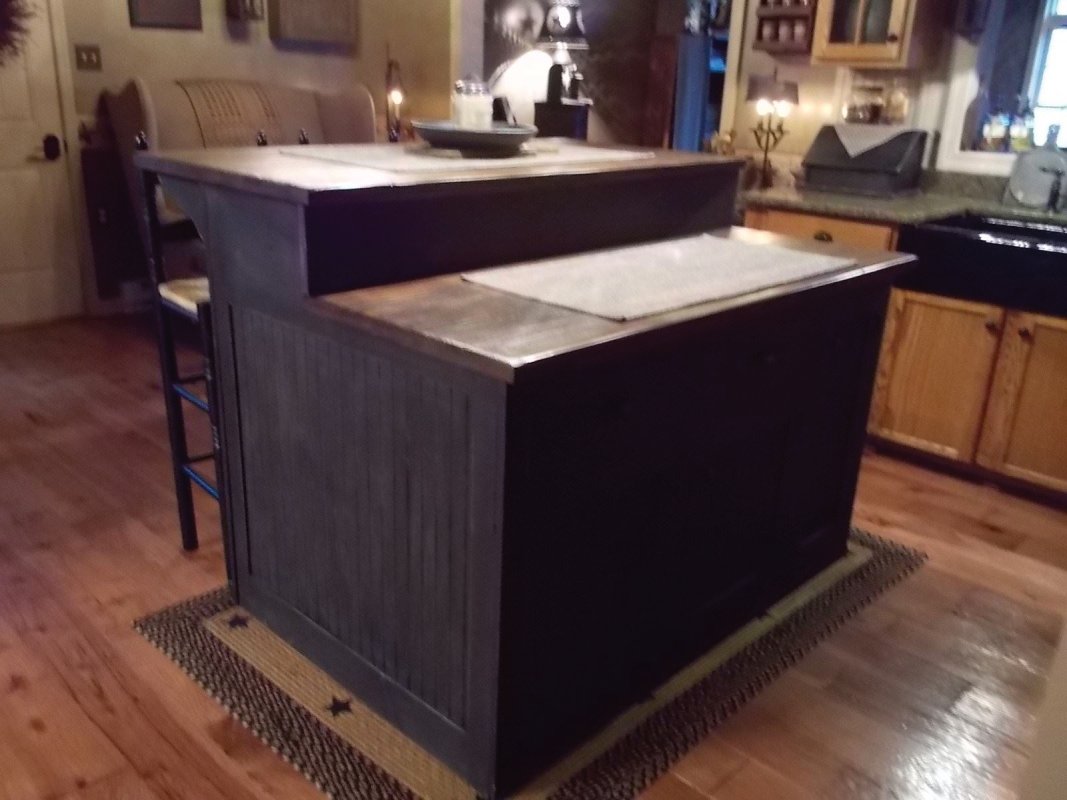 I just recently built a Kitchen Island for a client. They sent me a drawing with measurements that they had in mind. The lower part of the island is 58" W  22"D and 35" H. It has two drawers and three doors and a full shelf inside of the cabinet. The backside of the Island was made to look like a general store with a cubby counter. The counter measures 58" W 28"D and 42"H. The base of this is 16 inches deep. The tops are 1.5 inches thick with a distressed look. I had to build this in a two piece so they could get it into their house. The end panels were easily removable, so it was easy to set up for the client. The whole piece was done in a very primitive look which was requested by the client. They love the primitive look. Another satisfied customer.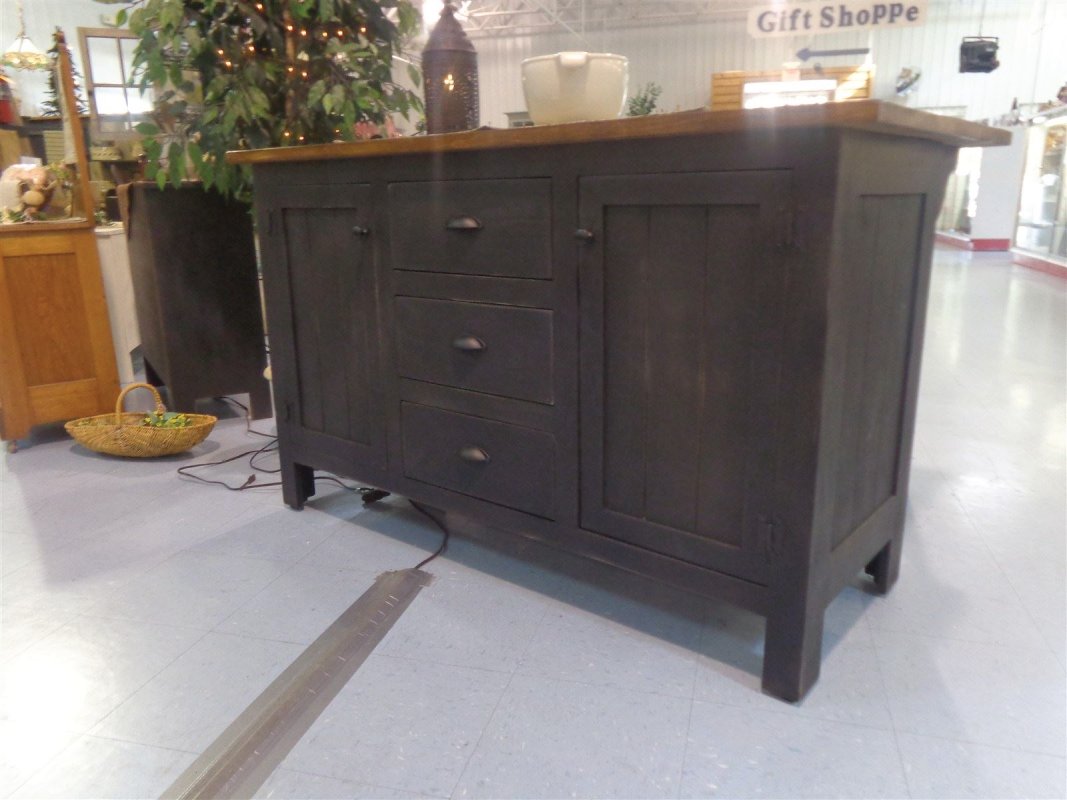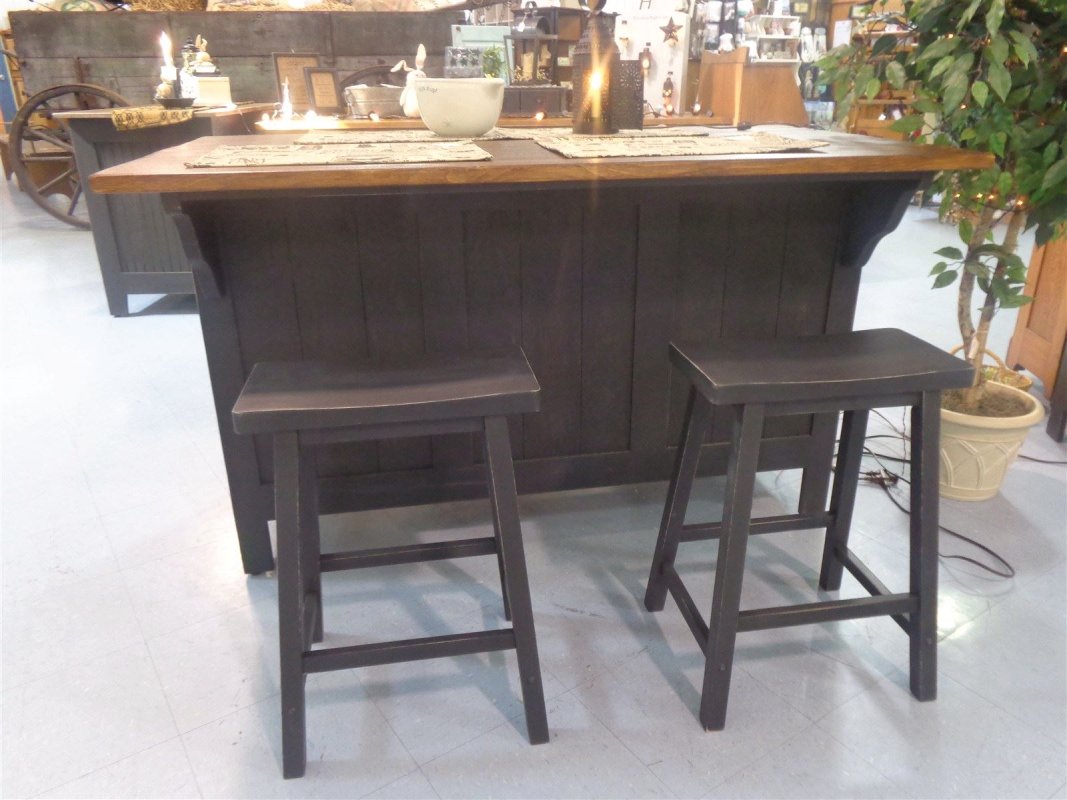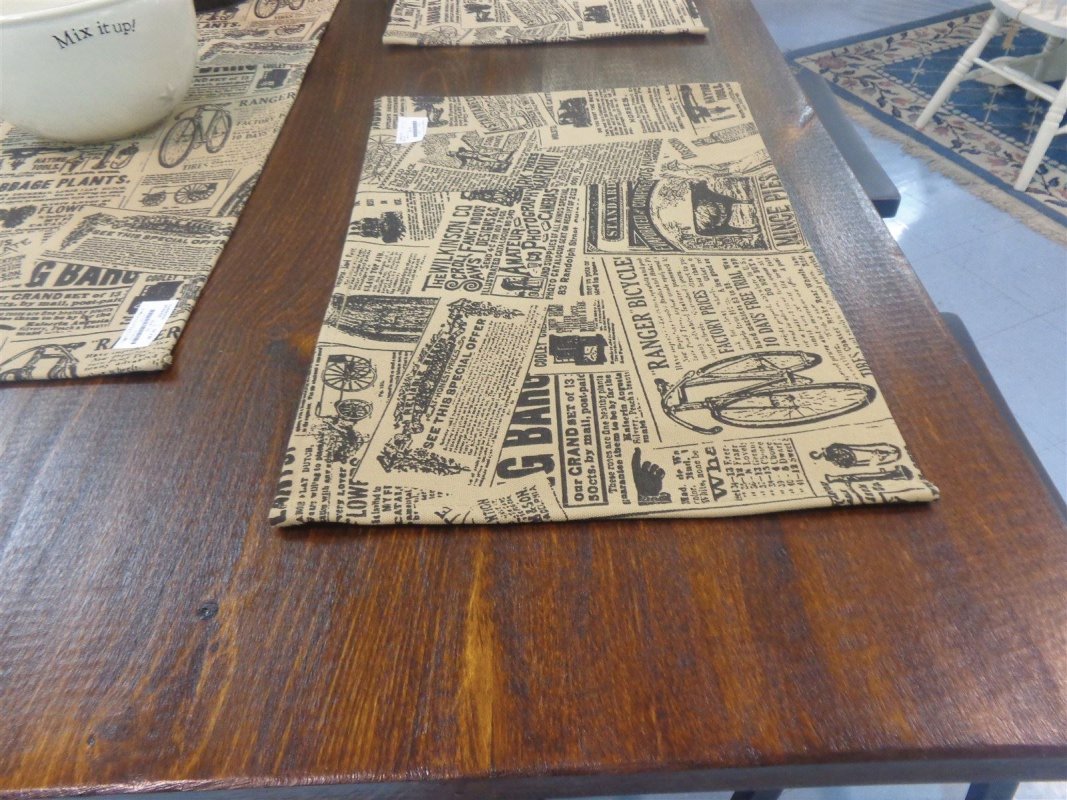 Hello Everyone, I wanted to share a Large Kitchen Island that I just recently set up at Rocky Ridge. This one measures 60" L  34" D and 36" h. I did this one with plank panel doors side and back. There are three drawers and 2 doors with adjustable shelves behind each door. It is set up with two saddle stools, but with a 60" top you could have three saddle stools. The top is done with a 1" thick distressed look. I finished this piece in Early American Stain. I hope you like it. 
/